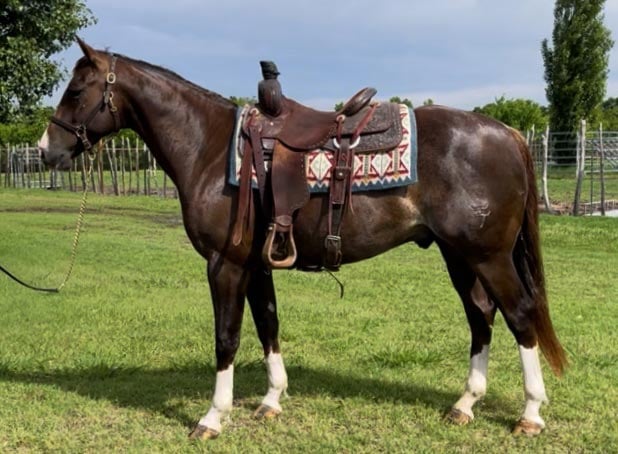 SOLD!
Bred to the max!! Sired by NCHA Horse of the Year, NCHA Haul Of Fame Sire SMOOTH AS A CAT!!
His Dam is SUPER PRODUCER~REY JAY PLAY WITH LTE of over $215k PE of over $214k by the infamous DUAL REY!!
THE KIND EVERYONE IS LOOKING FOR!!
Gorgeous gelding that is BROKE, BROKE, BROKE!!
This horse can do it all! He will cut and sort, head or heel. He stands hh with all the buttons amd absolutely anyone can ride him!!
SIRE: SMOOTH AS A CAT (High Brow Cat x Shes Pretty Smooth by Wheeling Peppy)
-LTE: $500,037
-Sire of offspring earning $29 million
-NCHA Horse of the Year
-NCHA Hall of Fame inductee
-Winner of multiple NCHA Championships
-Never missed a show due to injury or unsoundness
-Retired sound

DAM: REY JAY PLAY (Dual Rey x Play Who by Freckles Playboy)
-LTE: $215,177
-NCHA Open Futurity finalist
-PE: $214,117
-Daughter of DUAL REY LTE $105,038: split 6th NCHA Open Futurity. 2019 RGP #2 Leading Sire of Cutting Money-Earners; 2019 & 2020 AQHA Top 5 Leading Sire of Cutting Point-Earners; 2019 RGP Top 10 Sire of RCH Money-Earners; 2019 AQHA Top 10 Sire of Ranch Horse Point-Earners. Sire of 1,572 money-earners, $47,757,359, and earners of 9,996 AQHA points, including SPECIAL NU BABY ($482,061: NCHA World Champion Mare; NCHA Hall of Fame).
Smooth As A Cat

---

---

---

---

---

---

---

Rey Jay Play

---

Dual Rey

---

Dual Pep

---

Nurse Rey

---

Play Who

---

Freckles Playboy

---

Rena Lena

---