About Mark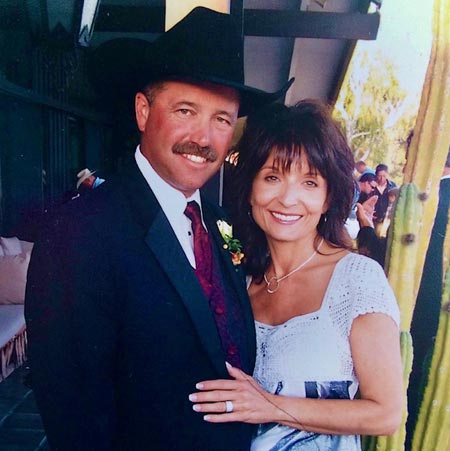 Mark is a practical and patient trainer, accumulating a long list of honors in all professional levels of western horsemanship. He trains and shows horses in the NRCHA, NSHA, AQHA, ARHFA, USTRC, SHTX and many regional associations. He also manages a long list of committed Non Pro and Amateur competitors who have achieved great successes under his guidance, including several World Titles. His versatility provides his students with opportunities to refine and expand their skills on young horses as well as their seasoned show horses.
Equally important, Mark appreciates the support of his entire family; his wife and business partner, Shari, is an accomplished general contractor and as head of the Horse Sales division, has an eye for talented prospects. Also contributing to the success of Luis Performance Horses is daughter LaRae, an accomplished horseman on her own, who has taken on the Cutting Division of the operation and giving lessons as well. Son Brad, owns and operates Flying T Transportation Company, he is able to meet all the transportation needs of Luis Performance Horses, Horse Sales Division.
Consequently, Mark & Shari are staying true to their mission, Performance With Purpose, as the family strives to develop quality working performance horses. They strongly believe it takes a dedicated, talented team with similar goals and values to foster trust and build confidence in their horses and in their program. Because of this mindset, Mark & Shari have been able to build their business on satisfied repeat customers over the past 27 years.
Some of Mark's Accomplishments Include:
2023 PHCHA Spring Fling Ranch Riding Champion
2023 PHCHA Spring Fling Open Two-Rein Res Champion
2023 SHTX SHOW, Bryan Texas with SHO CAT:
~Champion in the Pleasure 77.5
~Res Champion Reining 74
2023 PANHANDLE CUTTING with SHO CAT:
~$2000 Res Champion
2022 SHTX WORLD SHOW with SHO CAT:
~JrRes All Around World Champion
~Cow Horse Champion
~Reining Res Champion
~Top 10 Trail and Pleasure
2020 SHTX Hamilton Jr Horse Res All Around Champion
2020 SHTX Hamilton Open Reining Champion
2020 SHTX Hamilton Open Ranch Cutting Res Champion
2020 SHTX Hamilton Open Cow Work Res Champion
2020 NRCHA Heritage Days Classic Winner Open Bridle Spectacular Herd Work
2020 AQHA Res Champion Golden Cowboy AZ Sun Circuit
2020 AQHA Sr Cutting Champion AZ Sun Circuit
2020 AQHA Sr Cutting Circuit Champion AZ Sun Circuit
2020 AQHA Res Champion Sr Working Cow Horse AZ Sun Circuit
2020 AQHS Sr Working Cow horse Circuit Champion AZ Sun Circuit
2020 JPH Open Cow Horse Champion
2020 JPH Open Trail Horse Champion
2020 JPH Open Reining Champion
2020 JPH Open Western Pleasure Champion
2020 JPH Open All Around Champion
2020 SHTX Open Cutting Champion
2020 SHTX Open Western Pleasure Champion
2020 SHTX Open Working Cow Horse Champion
2020 SHTX Open All Around Champion
2020 SHTX Jr Pleasure Champion
2020 SHTX Jr Working Cow-Reserve Champion
2020 SHTX Jr Horse All Around Champion
2019 Mark took a year off of his show schedule so that LaRae could show his horses in the High School Rodeo. All of her horses were injured and she desperately wanted to make it to National Finals for the 4th time! She won the OHSRA State Championship in the Cow horse and the OHSRA Res State Championship in the cutting! She made it to the National High School Finals Rodeo for the 4th and final time in her Rodeo career thanks to her father's generosity as well as the generosity our Partners, Andrew and Felicity Macarthur!
2018 SRCHA Open Hackamore Year End Champion
2018 AQHA World Show Top 5 Open Hackamore
2018 NRCHA World Show Top Ten Jr WCH
2017 SRCHA Open Hackamore Champion Fall Classic
2017 SRCHA Open Derby Fall Classic
2016 NRCHA Open Futurity Finalist
2016 NRCHA Snaffle Bit Futurity Open Finalist
2016 AQHA World Show Finalist Cutting L2 & L3
2016 NSHA Stray Gathering Champion
2016 NSHA Open Stock Dog Res.Champion
2016 Santa Barbara Fiesta Open Hackamore Res. Champion
2016 Santa Barbara Fiesta Open Stock Horse Bridle Res. Champion
2016 Santa Barbara Fiesta Stock Dog Champion
2016 Rancheros Visitadores Champion Heeler
2016 Rancheros Visitadores Ranch Working Horse Champion
2016 Rancheros Visitadores Saddle Roping Champion
2015 AQHA World Show Finalist Open Bridle L2 & L3
2015 NSHA Snaffle Bit Futurity Int. Open Champion
2015 IRCHA Stray Gathering Champion
2015 SYVEA Open Bridle Champion
2015 SYVEA Open Two Rein Champion
2015 Santa Barbara Fiesta Open Team Penning Champion
2015 Santa Barbara Fiesta Open Hackamore Champion
2015 Santa Barbara Fiesta #8 Roping Champion
2015 Santa Barbara Open Branding Res. Champion
2015 Santa Barbara Fiesta Erving D. Osborn All Around Champion
2014 NRCHA World Show Finalist
2014 Cow Palace Phil Statler Memorial Bridle Horse Champion
2014 NRCHA Snaffle Bit Futurity Int. Open Res.Champion
2014 NRCHA Yearling Select Sale Incentive Winner
2014 NRCHA 2 Year Old Select Sale Incentive Winner
2014 NRCHA Snaffle Bit Futurity Open Finalist
2014 NRCHA Stallion Stakes Finalist
2014 NRCHA World's Greatest Horseman Finalist
2014 NRCHA World Show Open Hackamore Finalist
2014 NRCHA West Coast Region Open Hackamore Reserve Champion
2013 NRCHA Snaffle Bit Futurity Open Hackamore Finalist
2013 VCHA Cow Horse for the Cure Open Hackamore Spectacular Champion
2013 NSHA World's Richest Finalist
2013 NRCHA Int. Open Derby Champion
2013 Magnificent 7 Finalist
2013 Santa Barbara Fiesta Open Hackamore Champion
2012 NSHA Intermediate Open Novice Champion
2012 SYVEA Super Cow Horse Champion
2012 SYVEA Open Stock Horse Series Champion
2012 VCHA Hackamore Showdown Intermediate Open Champion
2012 NSHA Open Hackamore Champion
2011 SYVEA Open Stock Horse Series Champion
2011 NSHA Intermediate Open Novice Champion
2011 NSHA Open Novice Reserve Champion
2011 Irving D Osborne All-Around Champion
2011 Santa Barbara Fiesta Open Branding Champion
2011 NSHA World's Richest Fence Work Winner
2011 Salinas Open Stockhorse Champion
4 time World's Greatest Horseman Steer Stopping Champion
4 time Magnificent 7 Steer Stopping Champion
6 time Santa Barbara Fiesta Stock Horse Open Champion
2 time Ranchero Vistadore One-Man-One-Horse Champion
Winner of the prestigious Irving D. Osburn All-Around Cowboy Award a record 10 times
Cow Horse Classic Limited Open Futurity Champion
2 time Morgan Medallion Open Reining Champion
2 time Finalist World's Greatest Horseman
Finalist NRCHA Snaffle Bit Futurity
Finalist Magnificent 7 Stock Horse Competition
Finalist NRCHA Hackamore Classic
Finalist Stallion Stakes
Finalist World Show Derby