About Mark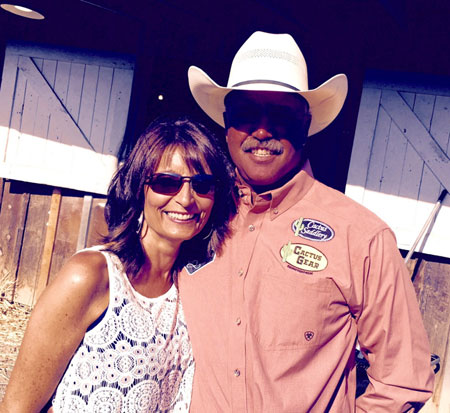 "With time-honored skills and a pleasant manner, Mark Luis exhibits his versatility and success as a professional trainer. Mark has achieved continued and growing success in competitive reined cow horse, cutting and roping events. Mark Luis Training Stables in Wynnewood, Oklahoma is a full service training facility. From the beginner to the accomplished, riders and horses are educated in reining, cutting, boxing, fence work, and roping as well. As a training location, the close proximity to numerous prestigious Association events make Mark's training complex an enviable choice.
Currently, Mark competes in events organized by the National Reined Cow Horse Association, the National Stock Horse Association, and the American Quarter Horse Association and many regional assocations, to name a few. He has accumulated a long list of honors in all professional levels of western horsemanship. He is a knowledgeable cattleman, adept at all phases of ranching, branding and roping. He is a practical and patient trainer, starting, finishing and showing horses in thesnaffle bit, hackamore and bridle.
Mark manages a long list of committed Non Pro and Amateur competitors who have achieved great successes under Mark's guidance including several World Titles. His versatility provides his students with opportunities to refine and expand their skills on young horses as well as their seasoned show horses.
Equally important, Mark appreciates the support of his entire family; his wife and business partner, Shari, is an accomplished general contractor and co-manages Mark Luis Training Stables. Also contributing to the success of Mark Luis Training Stables are daughter LaRae, sons Brad and Adam and Adam's wife Cassie. Mark's responsibilities are far reaching but he is supported by a strong family unit. Consequently, Mark is a motivated trainer who gives his full attention to the daily responsibilities involved in managing a conscientious training program, a growing facility and his competition program."
Some of Mark's Accomplishments Include:
2017 SRCHA Swing Into Spring Int. Open Derby Reserve Champion
2017 SRCHA Swing Into Spring Open Hackamore Reserve Champion
2016 NRCHA Snaffle Bit Futurity Open Finalist
2016 AQHA World Show Finalist Cutting L2 & L3
2016 NSHA Stray Gathering Champion
2016 NSHA Open Stock Dog Res.Champion
2016 Santa Barbara Fiesta Open Hackamore Res. Champion
2016 Santa Barbara Fiesta Open Stock Horse Bridle Res. Champion
2016 Santa Barbara Fiesta Stock Dog Champion
2016 Rancheros Visitadores Champion Heeler
2016 Rancheros Visitadores Ranch Working Horse Champion
2016 Rancheros Visitadores Saddle Roping Champion
2015 AQHA World Show Finalist Open Bridle L2 & L3
2015 NSHA Snaffle Bit Futurity Int. Open Champion
2015 IRCHA Stray Gathering Champion
2015 SYVEA Open Bridle Champion
2015 SYVEA Open Two Rein Champion
2015 Santa Barbara Fiesta Open Team Penning Champion
2015 Santa Barbara Fiesta Open Hackamore Champion
2015 Santa Barbara Fiesta #8 Roping Champion
2015 Santa Barbara Open Branding Res. Champion
2015 Santa Barbara Fiesta Erving D. Osborn All Around Champion
2014 NRCHA World Show Finalist
2014 Cow Palace Phil Statler Memorial Bridle Horse Champion
2014 NRCHA Snaffle Bit Futurity Int. Open Res.Champion
2014 NRCHA Yearling Select Sale Incentive Winner
2014 NRCHA 2 Year Old Select Sale Incentive Winner
2014 NRCHA Snaffle Bit Futurity Open Finalist
2014 NRCHA Stallion Stakes Finalist
2014 NRCHA World's Greatest Horseman Finalist
2014 NRCHA World Show Open Hackamore Finalist
2014 NRCHA West Coast Region Open Hackamore Reserve Champion
2013 NRCHA Snaffle Bit Futurity Open Hackamore Finalist
2013 VCHA Cow Horse for the Cure Open Hackamore Spectacular Champion
2013 NSHA World's Richest Finalist
2013 NRCHA Int. Open Derby Champion
2013 Magnificent 7 Finalist
2013 Santa Barbara Fiesta Open Hackamore Champion
2012 NSHA Intermediate Open Novice Champion
2012 SYVEA Super Cow Horse Champion
2012 SYVEA Open Stock Horse Series Champion
2012 VCHA Hackamore Showdown Intermediate Open Champion
2012 NSHA Open Hackamore Champion
2011 SYVEA Open Stock Horse Series Champion
2011 NSHA Intermediate Open Novice Champion
2011 NSHA Open Novice Reserve Champion
2011 Irving D Osborne All-Around Champion
2011 Santa Barbara Fiesta Open Branding Champion
2011 NSHA World's Richest Fence Work Winner
2011 Salinas Open Stockhorse Champion
4 time World's Greatest Horseman Steer Stopping Champion
4 time Magnificent 7 Steer Stopping Champion
6 time Santa Barbara Fiesta Stock Horse Open Champion
2 time Ranchero Vistadore One-Man-One-Horse Champion
Winner of the prestigious Irving D. Osburn All-Around Cowboy Award a record 10 times
Cow Horse Classic Limited Open Futurity Champion
2 time Morgan Medallion Open Reining Champion
2 time Finalist World's Greatest Horseman
Finalist NRCHA Snaffle Bit Futurity
Finalist Magnificent 7 Stock Horse Competition
Finalist NRCHA Hackamore Classic
Finalist Stallion Stakes
Finalist World Show Derby