LaRae Luis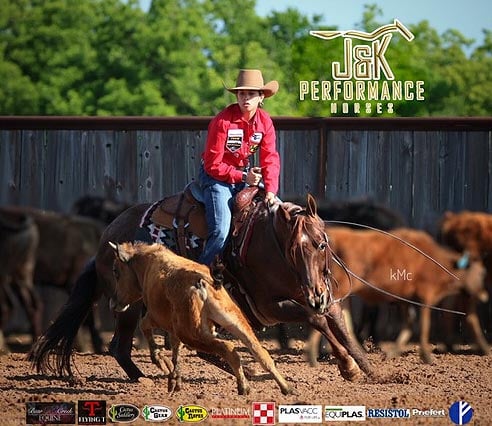 At 21 years old LaRae has accomplished quite a bit in her short career. She is proud to say that she has been working in the family tradition of training, showing and selling horses as well as all aspects of the Luis Performance Horse operation.
LaRae has won numerous titles in both Cutting and Cow Horse and is very fortunate to be endorsed by numerous National and Regional Sponsors as well as receiving several Ambassadorships. With the constant support of her family, friends and her sponsors and most importantly, her faith in God, she has been able to achieve tremendous success in competition.
After a lifetime of training side by side with her father, LaRae has first-hand experience of the hard work and determination it takes to train horses and reach the top.
Career Highlights:
4 X TEAM RESISTOL AMBASSADOR
4 X TEAM CINCH AMBASSADOR
2 X PLATINUM PERFORMANCE YOUTH AMBASSADOR
2020 Heritage Days Classic OPEN RANCH CUTTING CHAMPION
2020 Heritage Days Classic NON PRO RANCH CUTTING CHAMPION
2019 NHSFR World Championships TOP 15
2019 OHSRA State Champion Cow Horse
2019 OHSRA Res State Champion Cutting
2019 NRCHA Worlds Greatest Youth Cutting Champion
2018 2018 NHSFR World Champion Res ALL AROUND COWGIRL
2018 NHSFR 3rd in the World Cutting Finals
2018 NHSFR Cutting Go-Round Winner
2018 NHSFR 4th in the World Cow horse
2018 OHSRA Res State Champion Cow Horse
2018 OHSRA Res State Champion Cutting
2018 OHSRA State Cutting Average Champion
2017 AQHA TOP 10 Youth Working Cow horse
2017 2017 OHSRA Average State Champion Cutting
2017 OHSRA State Champion Cow Horse
2017-2018 NRCHyA Board of Directors~Secretary
2016 Hall of Fame Inductee Independence High School Athletics
2016 National High School Finals Rodeo Qualifier
2016 NRCHA World Championship High School Rodeo Champion
2016 NHSFR World Championships 7th place in the World in Reined Cow Horse
• Top 10 in the Average-Buckle Winner
• Top 4 in Short Go-Buckle Winner
2016 NHSRA Reined Cow Horse National Finals Qualifier-Placed 4th in Average
2016 CHSRA Cutting State Finals Qualifier-Placed 5th in Average
2016 CHSRA Reined Cow Horse State Finals Qualifier-Placed 4th in Average
2016 CHSRA Challenge of Champions Cutting Qualifier-Placed 5th in Average
2016 CHSRA King City Invitational Cutting Champion
2015 CHSRA Mid-State Classic Cutting Champion