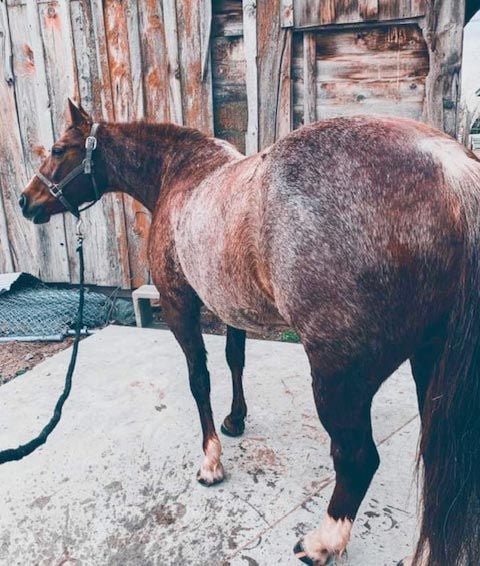 SOLD!
5 Panel N/N
LTE: $20,872
SIRE: Cats Red Feather
LTE: $221,000+
PE: $1,912,715
Dam: CJ Little Rachel by CJ Sugar
LTE: No record
PE: $25,143
PRETTY IS AS PRETTY DOES….couldn't be more true of this daughter of $1.9 million sire, CATS RED FEATHER, son of none other than all time leading sire, HIGH BROW CAT, with offspring earnings of more than $82 million!! Her dam is a granddaughter of Peppy San Badger and was bred by the legendary Buster Welch.
Frosty is a proven show mare, earning $20,872 and making 3 trips to the AQHA Youth World Show Cutting finals….and is currently ready to step back in the pen and do it again!
For the frosting on the cake…..she can be bred next week to MAXIMUM METALLIC CAT, the newest addition to our show and breeding program. He is by none other than METALLIC CAT, a
$30+ million sire and out of LA FEMME NIKITA, LTE $122,000+. He will be making his show ring debut at the 2020 AQHA World Show in both Jr Cutting and Jr Heeling!
Cats Red Feather

---

High Brow Cat

---

High Brow Hickory

---

Smart Little Kitty

---

Smart Misty Dawn

---

Smart Little Lena

---

Miss Quixote San

---

CJ Little Rachel

---

CJ Sugar

---

Son O Sugar

---

Christy Jay

---

Little Sugar Lena

---

Peppy San Badger

---

Lenas Sugar Bar

---