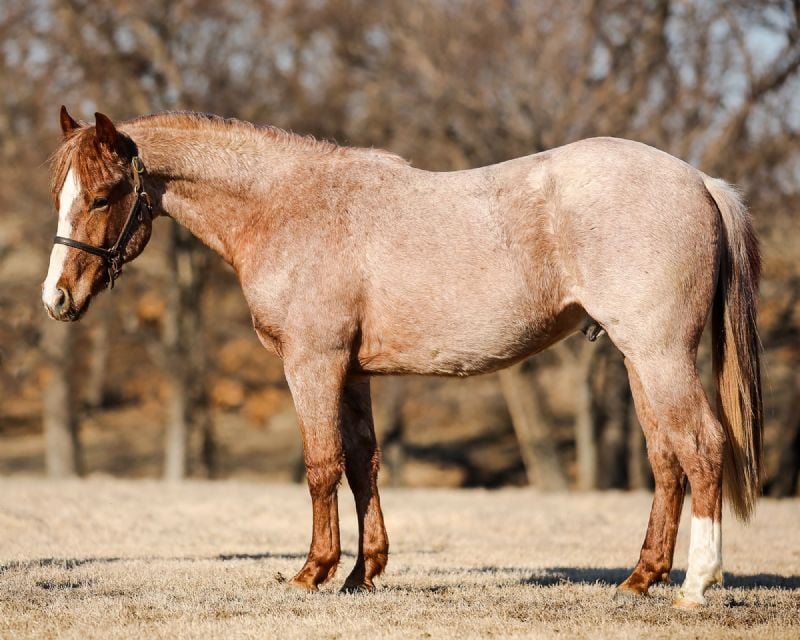 SOLD!
THIS BOY IS GORGEOUS!!! ROAN, ROAN,ROAN!!! BY LaRae's FAVORITE, SPOTS HOT!!!
This colt is a PRIME candidate for the show pen and the breeding barn with his stacked pedigree and potential!
Here's an INCREDIBLE show and stallion prospect by the great sire, SPOTS HOT--NCHA money-earner of $527,682, NCHA Open Futurity Champion, NCHA Hall of Fame, and a leading cutting sire of both point-earners and money-earners totalling more than $6M+! A few of his notable offspring include: SECOND SPOT, LTE: $307,668 and NCHA Open Futurity Champion; HOTTISH, LTE: $301,843, NCHA Reserve Horse Of The Year; and CINCA IM HOT, LTE: $258,451 and Breeder's Inv. Open Derby Champion; among MANY others.
His dam, BOON SAN SPOON, is an NCHA earner of more than $170K+, and NCHA producer! His second dam, BOON SAN KITTY, is a Cutting money-earner of $565,504 and producer of more than $880K+!
Current Height: To Come...
Current X-rays Available!
Contact: Shari 805-680-4194
Located in Wynnewood, OK - We can help arrange shipping Nationwide for long distance buyers!
---
Spots Hot

---

Chula Dual

---

Dual Pep

---

Smart Fancy Lena

---

Sweet Shorty Lena

---

Shorty Lena

---

Quixotes R Sugar

---

Boon San Spoon

---

Hes A Peptospoonful

---

Peptoboonsmal

---

Miss Smarty Rey

---

Boon San Kitty

---

High Brow Cat

---

Boon San Sally

---