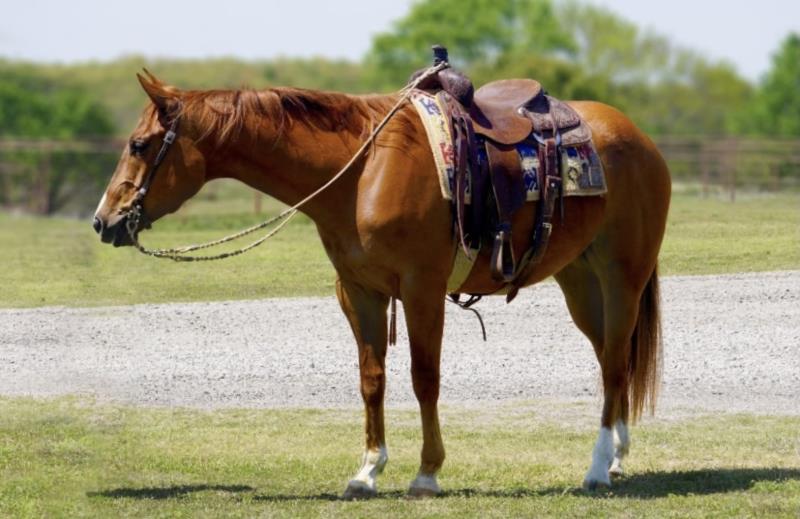 VIDEO COMING SOON
15.2 hands
STARTED IN THE ROPING!!
SIRE: Brunson Money Maker (Sonnys Courtney x Skippasanger String by Skippa Rex Lad)
His sire is SONNYS COURTNEY is the earner of 19 Hltr pts, Top 5 AQHA Hi Pt Sr Hltr S, ROM. Sire of 33 perfs including, WILLIN TO WALK (73.5 Wkg, 11 Am Wkg, 1.5 Yth Hltr, 536 Yth/Nov Yth pts, AQHA World Ch Yth Hntr Hck, AQHA Yth Perf Ch, Yth Rsv Hi Pt 3 events, Multi Regnl Ch/Rsv Ch 6 events)
DAM: Bakers Tumble Bug (Two Be Bar Baker x Tumble Bug Amber by Little Boy Amber)
A BIG FLASHY HEAD HORSE PROSPECT WITH CHAMPION WRITTEN ALL OVER HIM!! This powerhouse of a gelding.....you will never get outrun on him. He is a perfect prospect for the rope horse futurities. Super quiet and always a gentleman, he is easy to haul and an easy keeper.
STARTED IN THE ROPING!
15.2 hand head horse Prospect
Brunson Money Maker

---

Sonnys Courtney

---

---

---

Skippasanger String

---

Skippa Rex Lad

---

---

Bakers Tumble Bug

---

Two Be Bar Baker

---

---

---

Tumble Bug Amber

---

Little Boy Amber

---

---